Friction feeder MF series
Discover FACEM's automatic friction feeders MF series.
Our range is available in several widths, from 280 up to 500 mm. The friction automatic feeders allow you to count, unstack, and dispatch flat products.
FACEM's expertise allows us to develop standard feeders and customise it when necessary to your production requirements. We provide you with the best possible solution, technically and economically.
Applications: automatic feeding of wrapping and packaging machines, film wrapping, enveloping, inkjet or labeling line, special machines.
Unstacking: flat or folded sheets, documents, booklets, leaflets, leaflets, inserts, notices, magazines, newspapers, flat boxes, cases, CD, DVD.
These feeders are available in a fully stainless steel version with conveyor belts adapted to food industries.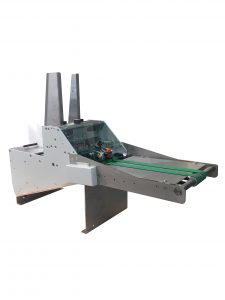 Dimensions

Variable

Poids

Weight

+/- 25 kg

Alimentation électrique

Electrical supply

240V 50/60Hz

Vitesse d\'exécution / Production à l\'heure

Speed

0 à 75m/min, 150 m/min (depending on the option chosen)

Dimension des produits acceptés

Dimension of products accepted

maximum 550 X 400 mm (l x L)*

Maintenance :

OUI

YES

Travail à façon

Custom work

OUI

YES

Location

Renting

OUI

YES